Physical therapy is a crucial part of returning to full health after a serious illness, an operation, or a bad injury, and Tai Chi for physical therapy offers a blend of mildness and effectiveness that makes it particularly suited to people recovering from one or several of these problems. Physical therapy can help restore the function of damaged areas of the body, return the metabolism to a more robust and healthy balance, and improve the outlook of the patient, too. Tai Chi is highly recommended for convalescence precisely because it is extremely low impact, yet offers proven assistance to muscular development and physical fitness.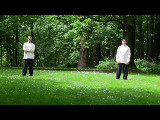 Tai Chi for physical therapy, and to fight arthritis
Rebuilding muscles, improving coordination, and boosting the emotional outlook after a catastrophic illness are all results achievable by Tai Chi. Though other exercise programs could potentially offer the same benefits, Tai Chi has less downsides than many other types of workout, specifically because it will not injure those weakened by disease or surgery while they are still undergoing the recovery process.
A University of Missouri study suggests that Tai Chi for physical therapy can also help cancer survivors recover after the rigors of their illness and chemotherapy. Tai Chi's coordination, focus, and mood improving qualities resulted in a more positive outlook and recovery of memory and attention.
Finally, it seems likely that Tai Chi can help alleviate age-related problems like bone loss and arthritis. It has been known for some time that good physical condition greatly lessens the symptoms of arthritis, which is why athletes often do not show arthritis until after they retire. Tai Chi is therefore a good method for managing arthritis pain and maintaining a much more active lifestyle. It also greatly slows bone loss, in common with other exercises.
Restoration of joint flexibility after injury
Injured joints are an all too frequent complaint among those who work at physically demanding jobs. Though office work and other non-stressful activities have replaced mass labor as the main source of income in advanced countries, there is no reason to neglect those who sacrifice their bodies to maintain the nation's physical infrastructure, produce tangible goods, and construct homes and other buildings needed for civilized existence.
Tai Chi has been demonstrated to have a clear ability to restore functionality to joints damaged to the extent that many normal movements were impossible. For example, the arms can be injured in such a way that they lose all strength when raised above the shoulders, or cannot be raised that high at all, making many everyday tasks impossible even for someone otherwise fit and healthy.
Free Tai Chi Video: What is Tai Chi?
The mild, persistent, and thorough flexibility effects of Tai Chi, however, gradually improve the range of motion and strength of these joints. Blood flow is increased to them at a mild, natural level, which promotes healing, too, by bringing more nutrients and more white blood cells to the site of the damage. Even if the restoration is not complete, even a partial return to normal is a boon after losing one's ability to carry out daily activities.