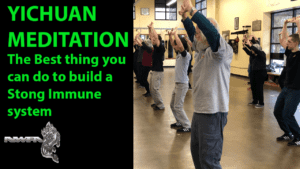 Yichuan is an ancient internal martial art. There are four areas of study in Yichuan.
1- Standing Meditation
2- Walking Meditation
3- Test of Power Exercises
4- Push hands
The practice of Yichuan is a great addition to any martial arts system. It has many benefits here are a few: It will help you build a strong foundation, help you to deal with higher levels of stress and teach you how to be more relaxed.
Practice this series as a solo practice or to deepen your practice in other areas. It will offer endless benefits.
I started teaching in 1988. I have trained thousands of students and the ones who listen and take on the practice always seem to grow faster and get more out of their training than the ones who do not.
Try it out for 20 minutes a day for the next 6 months and you will never stop. I dare you:)
Be well
Click the Picture or this link to get to the video.